Order Code: ZC547
AMD-18 - Refrigerated Air Dryer (240V)
1800L/min - (64cfm)
Suits Compressor with 11kW / 15HP

Description
PERFORMANCE:
AMD dryer have excellent performance even in instances of high ambient temperatures up to 45ºC and high inlet temperatures of 55ºC, ensuring a reduced compressed air pressure drop.

FUNCTIONALITY:
operation of the AMD dryer is monitored by the DMC15 electronic controller which indicates the dew-point temperature digitally, it also controls the condensation drain valve via a timer and the condenser fan via a probe. A hot gas bypass valve allows the dryer to operate at part load and prevents the evaporator from freezing. The ALU-DRY aluminium module has a vertical flow layout ensuring the wet compressed air flows down to the automatic drain.

ECONOMY:
AMD dryer are sized to match standard air compressor outputs and therefore it is unnecessary to select a larger model. Air compressor dryer combinations have been tested and certified within operation limits shown in the technical feature brochure.
Features
Available for all size compressors
Built for Australian conditions
Ideal for where clean dry air is a must
Complete with automatic condense drain
Recommend use with 5 micron Pre-filter
Certified quality systems ISO 9001
Falcon Dryer Brochure
1.16 MB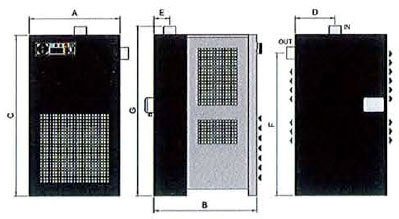 Spare Parts Ordering
To assist you in ordering your spare part quicker than ever before, we have listed our most common spare parts to suit our
Hafco Machinery
for purchase online. Just choose between the
2 options
outlined below, to find exactly what you are looking for. If you need further assistance please
contact us
.
Option 1
Browse through the
"Common Spare Parts"
tab below
. Once you have identified your part, you can add it to your cart by clicking on the
"+ ADD TO CART"
button. If you wish to add multiples of this part you can either click the
"+ ADD TO CART"
button as many times as you like or click on the
"VIEW CART"
button and change the order quantity, prior to completing your order.
Option 2
If your part is NOT listed in the
"Common Spare Parts"
tab below
, click the
"MORE INFO"
button to complete the
"Spare Parts Enquiry Form"
.
This will provide you with the option to email your spare part enquiry direct to our Spare Parts and Service Department, or if you wish, you can download a printable version of this enquiry form which will include a copy of the Parts List to suit this machine (if available). Further instructions for the return email address or fax number of this printable form is provided on the document for your convenience.
NOTE: Please remember to clearly identify your part on the included parts diagram if necessary so that we can respond as quickly as possible with a price and availability for the part(s) you require.