THIS PRODUCT IS NO LONGER AVAILABLE. Click to see recommended item > W244 (VIPER 182)
Order Code: W240
MINI MIG 180 - MIG Welder (240V)
35-180 Amps
#KMM180


Description
The UNIMIG 180 Gas/Gasless Welder is the perfect solution to all your DIY welding needs. Extremely tough and reliable this portable welder can handle most small repair and DIY jobs. Perfect for running Gas/Gasless wires and with the added bonus of being spool gun ready welding aluminium can be acheived with ease.
Features
Single Phase 240 Volt Input
Six Voltage Positions for Precise Welding Control
Thermal Overload Protection
Fan Cooled
35-180AMP Output
1-5 Kg Wire Spool Capacity
Gas / Gasless Operation
Euro Connect 3M Metre MIG Torch
Spool Gun Ready
1 Spool Mild Steel Solid Wire
1 Spool Gasless Flux Cored Wire
Fully Compliant to AS 60974-1
Includes
Mini-MIG 180
SB15-3M Euro Connect Ergo MIG Torch
3M Earth Direct Connect Lead
Uni-Flame Twin Gauge Argon Regulator
Gas Hose with Fittings
1 X 0.5 Kg Spool 0.8mm Solid Mild Steel Wire
1 X 0.45 Kg Spool 0.8mm Gasless Flux Cored Wire
1 X 0.8mm Flux Cored Drive Roller
Optional Accessories
Spool Gun SPG135-4M
Trolley (W241)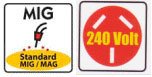 Instruction Manual
2.13 MB
Spare Parts Ordering
To assist you in ordering your spare part quicker than ever before, we have listed our most common spare parts to suit our
Hafco Machinery
for purchase online. Just choose between the
2 options
outlined below, to find exactly what you are looking for. If you need further assistance please
contact us
.
Option 1
Browse through the
"Common Spare Parts"
tab below
. Once you have identified your part, you can add it to your cart by clicking on the
"+ ADD TO CART"
button. If you wish to add multiples of this part you can either click the
"+ ADD TO CART"
button as many times as you like or click on the
"VIEW CART"
button and change the order quantity, prior to completing your order.
Option 2
If your part is NOT listed in the
"Common Spare Parts"
tab below
, click the
"MORE INFO"
button to complete the
"Spare Parts Enquiry Form"
.
This will provide you with the option to email your spare part enquiry direct to our Spare Parts and Service Department, or if you wish, you can download a printable version of this enquiry form which will include a copy of the Parts List to suit this machine (if available). Further instructions for the return email address or fax number of this printable form is provided on the document for your convenience.
NOTE: Please remember to clearly identify your part on the included parts diagram if necessary so that we can respond as quickly as possible with a price and availability for the part(s) you require.