Order Code: W180
MIG 190 Inverter - Multi-Function Welder-MIG-TIG-MMA (240V)
30-190 Amps
#KUMJR190


Recommended Plug Amperage
(amp)
15
Welding Current Range MIG
(amp)
30 - 190
Welding Current Range MMA
(amp)
10 - 160
Welding Current Range TIG
(amp)
10 - 160
Ferrous Wire Size - Range
(mm)
0.6 - 0.9
Stainless Steel Wire Size - Range
(mm)
0.8 - 0.9
Aluminium Wire Size - Range
(mm)
0.9 - 1.0
Recommended Generator
(KVA)
9
Description
The Uni-Mig190 is an inverter-based portable MIG welding machine with added MMA and Tig function. The MIG function allows you to weld with both Gas Shielded and Gasless wire. Easy stepless adjustment of voltage and wire feed make for easy setting of welding parameters giving excellent, professional welding results. Wire inch gives easy feeding of the wire during set up without gas wastage.

Added MMA welding capability delivers easy electrode welding with high quality results, including cast Iron, stainless and low hydrogen. Connection of the SR17V TIG torch provides quality DC TIG ((Lift Arc ignition) welding of steel, stainless steel and copper.

A semi-industrial machine, it is lightweight and portable, an optional trolley with tool trays and cylinder rack provides off the floor operation and better manoeuvrability around the workshop. Being 240v single phase gives great portability, it can be run from any 15 Amp power socket providing more flexible use for site and home workshop locations. Ideal for general engineers, maintainance workshop, rural workshop, panel beaters, home workshop. Designed and built to our specification.
Features
Latest IGBT Inverter Technology
Multifunction Inverter:
MIG
DC TIG (WITH LIFT ARC IGNITION)
MMA
Spool Gun Compatible
Digital Voltage & Amperage Meters
Geared Wire Drive
Voltage Reduction Device (VRD)
Fully Compliant to AS 60974-1
Includes
UNI-MIG 190 Multifunction Welding Inverter
SB244M 4M Ergo MIG torch with Euro fitting connection
4M ARC lead set 10-25mm Dinse style connections
UNI-FLAME Twin Gauge Argon Regulator
Gas Hose with Fittings
Optional Accessories
17V-4MCP2 Tig torch (W170A)
Spool gun (W181A / W181B)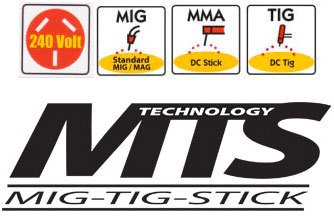 Instruction Manual
2.3 MB
Spare Parts Ordering
To assist you in ordering your spare part quicker than ever before, we have listed our most common spare parts to suit our
Hafco Machinery
for purchase online. Just choose between the
2 options
outlined below, to find exactly what you are looking for. If you need further assistance please
contact us
.
Option 1
Browse through the
"Common Spare Parts"
tab below
. Once you have identified your part, you can add it to your cart by clicking on the
"+ ADD TO CART"
button. If you wish to add multiples of this part you can either click the
"+ ADD TO CART"
button as many times as you like or click on the
"VIEW CART"
button and change the order quantity, prior to completing your order.
Option 2
If your part is NOT listed in the
"Common Spare Parts"
tab below
, click the
"MORE INFO"
button to complete the
"Spare Parts Enquiry Form"
.
This will provide you with the option to email your spare part enquiry direct to our Spare Parts and Service Department, or if you wish, you can download a printable version of this enquiry form which will include a copy of the Parts List to suit this machine (if available). Further instructions for the return email address or fax number of this printable form is provided on the document for your convenience.
NOTE: Please remember to clearly identify your part on the included parts diagram if necessary so that we can respond as quickly as possible with a price and availability for the part(s) you require.