Order Code: V340
PQV-100V - Pneumatic Production Vice
100mm

Dimensions (L x W x H)
(mm)
600 x 220 x 185
Description
Designed for production applications with simple ON/OFF operation.
Features
Robust construction of one piece casting consisting of fixed jaw and vise bed
Rigid casting of high tensile ductile iron FCD60JIS (Equal to GGG60) with 60kgs/mm2 or 80,000 psi tensile strength
Suitable for mass production runs on machine centre's, milling machines, drilling machines or special purpose machines
Compact pneumatic mechanism design. No oil is required only a air supply
Compact total length of vice with Max, clamping capacity
Safety locking mechanism for unexpected termination of air supply. After pneumatic clamping. The work piece will be remain clamped firmly even without the air supply
Easy and simple ON-OFF switch control for pneumatic operation
Safety protection with Max. pneumatic clamping stroke is 4mm to prevent inserting operator's finger during clamping operation. (Stroke is 2mm best power capacity)
Rapid ON-OFF only 1.5sec
Free adjusting of Max. pneumatic clamping pressure from 0-1000kgf (4000) by air regulator, jaw opening 2mm is best clamping power capacity of workpiece
Vise bed flame hardened to HRC45° to reduce up wear and maintain accuracy
Down trust "semi-spherical segment" mechanism eliminates the jaw and work-piece lifting

Safeway PQV VICE Manual
1.59 MB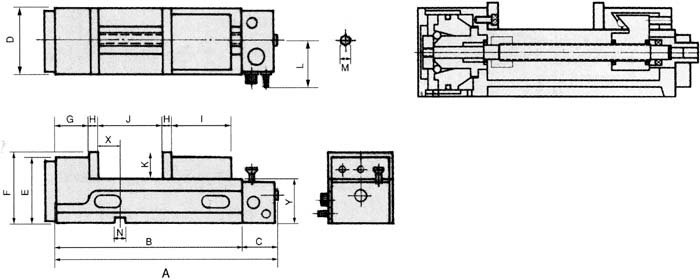 Spare Parts Ordering
To assist you in ordering your spare part quicker than ever before, we have listed our most common spare parts to suit our
Hafco Machinery
for purchase online. Just choose between the
2 options
outlined below, to find exactly what you are looking for. If you need further assistance please
contact us
.
Option 1
Browse through the
"Common Spare Parts"
tab below
. Once you have identified your part, you can add it to your cart by clicking on the
"+ ADD TO CART"
button. If you wish to add multiples of this part you can either click the
"+ ADD TO CART"
button as many times as you like or click on the
"VIEW CART"
button and change the order quantity, prior to completing your order.
Option 2
If your part is NOT listed in the
"Common Spare Parts"
tab below
, click the
"MORE INFO"
button to complete the
"Spare Parts Enquiry Form"
.
This will provide you with the option to email your spare part enquiry direct to our Spare Parts and Service Department, or if you wish, you can download a printable version of this enquiry form which will include a copy of the Parts List to suit this machine (if available). Further instructions for the return email address or fax number of this printable form is provided on the document for your convenience.
NOTE: Please remember to clearly identify your part on the included parts diagram if necessary so that we can respond as quickly as possible with a price and availability for the part(s) you require.