Order Code: T067
21BH - Mandrel Tube Bender - Elecrtic Hydraulic (240V)
1/2" - 1-1/2" Round Capacity


Description
The Swade-Sir 21BH tube bending machine is a universal draw bender designed to form precision bends using Mild steel, Stainless Steel, or non ferrous materials in either tube or section forms, with or without an internal mandrel and wiper die.

Standard mandrel bed allows for thin wall tubes to bend below the standard radius when using the mandrel attachment. The mandrel bed includes a manual extractor and mandrel rod, a powered mandrel extractor is also available on request (as pictured above) at additional cost. the standard bed length is 1600mm, bed extensions of any length can be built to your specifications.
Features
Slide block pressure applied by cam action clamp
Positive tube clamping by quick action cam lock
Drop in tooling for rapid set up times
Engineered from the highest quality materials
Simple to set up and operate
Free standing as pictured
Hydraulic bending action
Adjustable angle stop for repeatability bends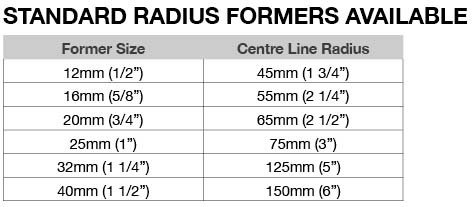 Spare Parts Ordering
To assist you in ordering your spare part quicker than ever before, we have listed our most common spare parts to suit our
Hafco Machinery
for purchase online. Just choose between the
2 options
outlined below, to find exactly what you are looking for. If you need further assistance please
contact us
.
Option 1
Browse through the
"Common Spare Parts"
tab below
. Once you have identified your part, you can add it to your cart by clicking on the
"+ ADD TO CART"
button. If you wish to add multiples of this part you can either click the
"+ ADD TO CART"
button as many times as you like or click on the
"VIEW CART"
button and change the order quantity, prior to completing your order.
Option 2
If your part is NOT listed in the
"Common Spare Parts"
tab below
, click the
"MORE INFO"
button to complete the
"Spare Parts Enquiry Form"
.
This will provide you with the option to email your spare part enquiry direct to our Spare Parts and Service Department, or if you wish, you can download a printable version of this enquiry form which will include a copy of the Parts List to suit this machine (if available). Further instructions for the return email address or fax number of this printable form is provided on the document for your convenience.
NOTE: Please remember to clearly identify your part on the included parts diagram if necessary so that we can respond as quickly as possible with a price and availability for the part(s) you require.