Order Code: S906F
PB-135B - Hydraulic CNC Pressbrake (415V)
135T x 3200mm
CNC Fasfold 202 Control 2-Axis with Hardened Ballscrew Backgauge & Foldsafe Safety Guarding System

Control Type
CNC FASFOLD 202
Nominal Pressure - Tonnage
(Ton)
135
Nominal Pressure - Kilonewtons
(kN)
1250
Length of Work Table
(mm)
3200
Distance Between Columns
(mm)
2650
Ballscrew Backgauge Travel
(mm)
600
Description
Whether you are a production or a jobbing shop, Fasfold saves you lots of setup time. If you do one off, quickly draw your profile up in quickdraw

Hafco MetalMaster Pressbrakes are manufactured for a worldwide market, they are used and accepted from first time user's right through to established manufacturers.

MetalMaster Quality Pressbrakes feature high durability, and provide precision bending capabilities. The Pressbrake main frames are constructed from rolled, stress relieved solid steel to prevent distortion during the bending process and under extreme continuous loads.

MetalMaster Pressbrakes are produced in a high volume production process and therefore are able to be manufactured cost effectively, resulting in affordable price, representing value for money and quicker return on investment.

Featuring an adjustable synchronised torsion bar with positive stop system ensures consistent and accurate bending beam parallelism tolerance to 0.01mm via the digital Control unit.
All electrical components are off European quality supplied by, Telemecanique, Merlin Gerin and ABB. Hydraulic control units are supplied by Aron from Italy.
Features
Fasfold 202 Pressbrake control Australian made and designed to maximise performance & increased production that leads to increased profits, so whether you are a production or a jobbing shop, Fasfold saves you lots of setup time. If you do one off, quickly draw your profile up in quickdraw.
Multi touch screen colour graphics on wide 19" screen with smart phone style 2 finger zoom, pan, rotate and page flicking
QuickDraw programming by hand on Touch screen.
Free-Hand editing on profile as opposed to data block editing
Self paced, individualised On-screen tutorials
Automatic under-/over-Fold compensation
True Bend allowance on backstop (K factor)
Dynamic Graphical Diagnostic
3D & 2D operation included as standard
Free off-line programming from office
Speed monitoring and stopping distance monitoring ensuring a safer pressbrake
Uses a 3rd axis called the beam axis which allows for variable beam openings to increase production cycle time
History Record function for diagnostic and training purposes by Help Desk
Plug & Play for Self Installers Fasfolds on-board Commissioning Manager does most of the Commissioning and Calibration Automatically.
Can be fitted to most Pressbrakes
Suits synchro machines with proportional valves & torsion bars systems


Step 1. QUICKDRAW: How easy is this!.....
Simply touch the corners on the grid to draw the box to the left Press OK to return to the main screen


Step 2. Simply touch on the dimension or angle of the profile in the middle to edit the value on the pop-up keypad


Step 3. How good is this!........ See the profile on the left for easy editing.... and the folding simulation on the right!
View the actual folding sequence simulation on the graphic of a Press Brake as you fold in real time or animation mode
Change folds from front to rear to optimise production
Step through the whole sequence without wasting time or material
This can be done on the Press or off-line in the office (For quotes on new jobs: This process can be used in minutes to assist in doing new quotes accurately)
Touch the "Automatic fold sequence" button or set the fold sequence manually simply by entering the sequence (1 2 8 7 6 5 3 4 for the example on the left)


Step 4. Enter material thickness and width


Step 5. Select the right tool and Die from the library and start production:


EASY JOB SELECTION
Select existing jobs from the library
Give the job a name and save for future use. A virtually unlimited number of jobs can be saved
Jobs open with all relevant data like bend sequence, material thickness, right Tool, Die & V, angle corrections, which bends was done from front or rear etc. This saves lots of setup time
Jobs can be downloaded from the office
Jobs can be linked to fold boxes easily
Each operator can have his own password with his own job library
Online help - simply touch the HELP button, then any topic for an explanation


Online help - simply touch the HELP button, then any topic for an explanation
Cad import - import files from AutoCad, SolidEdge, SolidWorks etc.
Box Mode - Hand draws a box quick and easily folds in one continuous process.
Powerful diagnostics which can be done very easily. Any device on the Press whether it is a switch, solenoid valve, motor or encoder is represented on this screen either as green or red. If you step on the foot switch for example, it changes colour. Within minutes all devices can be tested and any faults found


Hydraulic / Mechanical ram, synchronised positive stop design, ram stroke controlled by precision mechanical nut depth stops built into each cylinder. Electronically controlled by CNC FASFOLD Programmable control assuring accurate repeatability.
Parallelism is ensured by torsion bar that can be easily adjusted by clutch system.
CNC FASFOLD 202 programmable hardened ballscrew backgauge with adjustable height finger stops.
Segmented heavy duty 86° offset top punch is segmented for return bend clearance, complete with European style punch holder with an adjustable wedge clamping system for crowning. Intermediate clamp has safety key to stop punch dropping.
Multi vee ('V') bottom die is made from one 3200mm solid die block design to handle heavy plate, safety edge vee ('V') is incorporated in bottom die block.
Conveniently mounted control box on pendant for quick swivel and adjustments.
Mono-block steel frame design, welded then machined to ensure minimal bed deflection under load
Enclosed rear gate with micro safety switches complete with sliding rear door for easy access.
European Intermediate clamping system, allowing operator to change position of tooling to suit multiple requirements on complex applications. This feature ensures minimum down time, more productivity and results in reduced cost per finished product.
Sliding steel fabricated sheet supports enabling a wide range of material sizes to be aligned and supported at the correct required height. This feature is achieved with a "T" slot machined down the total length of the die bed; sheet supports are also adjustable vertically to assist in supporting material with return bends already folded.
Adjustable sliding blocks control the machines beam to provide desirable open height distance to the (slow speed) mute bending point. Operator adjustable locking knobs for quick adjustment, enables accurate repeatability and increased productivity.
Metal safety guarding surrounding the machine with rear sliding door fitted and micro switch ensuring operator safety. Clear access panels placed at each end of machine allows the operator to clearly view tooling and work piece during bending operation. MetalMaster specially design gates to suit Australian safety requirements.
Hydraulic MPA pressure gauge mounted on right side of support frame with quick adjusting pressure control knob allowing operator to accurately set the pressure required for different material thickness, incorporating with hydraulic overload protection.
Welded steel fabricated synchronised torsion bar horizontally supporting main bending beam to provide consistent parallelism that also can be adjusted for taper correction.
The vertical supporting slides are treated to provide greater ware resistance and increased accuracy.
Reinforced side frames providing addition support strength to machine throat
Australian made Foldsafe closed loop safety control system with European light curtains that continuously monitors machine performance, beam speed, stopping time etc.
Mild steel capacity is rated on hot rolled material with 250MPA


Pre-Commissioning:
1. Pressbrake bender is run & tested prior delivery
2. Hydraulic oil is included with machine
Includes
Swivel pendant control unit operated by CNC FASFOLD 202 control
Australian made Foldsafe safety control system with European light curtains
LED superior bright work lights provides clearer view to workpiece
Sliding front sheet support arms
Emergency stop buttons conveniently located on control panel and foot control
Mobile dual operation foot control
Segmented 86° offset top punch
Solid one piece four way multi vee (V) die block
Top punch tool intermediate holder system with wedge type adjustment
Powered hardened ballscrew backgauge with 600mm travel, operated by CNC FASFOLD 202 control
Oil tank level indicator
Metal constructed safety guarding surrounding machine with clear side viewing panels
Integrated hydraulic system allowing rapid approach switching automatically to slow bend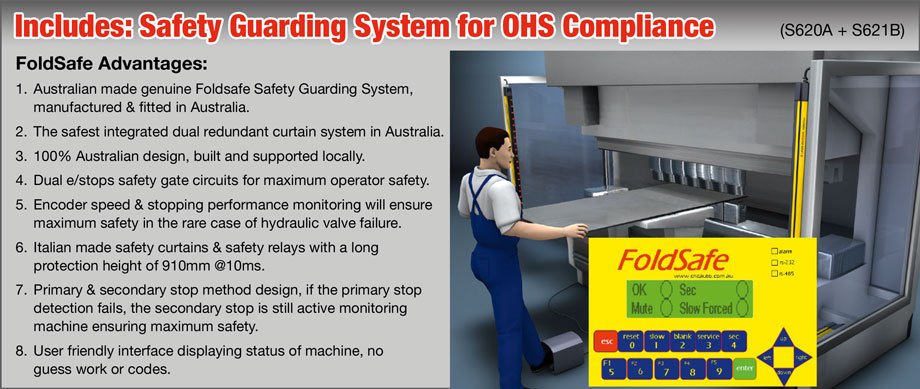 Bending Force Chart
113.46 KB
FASFOLD 202 User Manual 10 2014
2.88 MB
Fasfold Metalmaster
1.91 MB
Instruction Manual
1.73 MB
Tooling Diagram
357.14 KB
Select your Postcode & Suburb to estimate the delivery fee for this product.
Postcode & Suburb:
Freight is estimated from the nearest branch that has stock available.
Our delivery contractors operate Monday to Friday only, excluding public holidays.
All orders are processed in order of payment receipt.
Our aim is to despatch your goods as quickly as possible, however despatch times may take longer than our standard 3 to 5 day service during peak periods or according to stock levels, if this is the case we will advise you before processing your order.
More questions?
Visit our delivery information page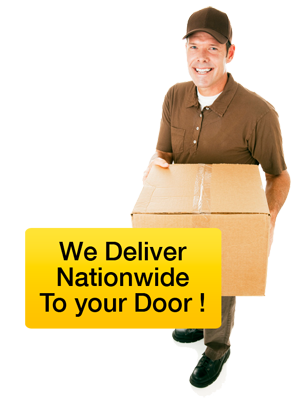 ORDER CODE
MODEL
Control Type
Nominal Pressure - Tonnage
(Ton)
Nominal Pressure - Kilonewtons
(kN)
Length of Work Table
(mm)
Distance Between Columns
(mm)
Ballscrew Backgauge Travel
(mm)
Table Bed Crowning System
Price (ex GST)
Price (inc GST)
Spare Parts Ordering
To assist you in ordering your Spare Part to suit
Hafco Machinery
simply select from the list below, if your part is not listed below please view
"Parts List PDF"
to identify your part required (if provided) then simply click the
"SEND PARTS REQUEST"
Button and fill in the required details. Our Spare Parts and Service Department will contact you as quickly as possible. If you need further assistance please
contact us
.
Covers 4 Square Metres

Only Available From:

Sydney, Melbourne, Perth

Additional Freight Charges May Apply