THIS PRODUCT IS NO LONGER AVAILABLE. Click to see recommended item > S0135 (RST-4D)





Order Code: S013
RST-4T - Flexi-Rack Wood Shelving
455kg Shelf Load Capacity
1040 x 430 x 1830mm

Description
Industrial steel racking which is supplied in bays 1040mm (L) x 430mm (W) x 1830mm (H) with a grey corrosive resistant powder coated finish.

Each bay consists of four levels with particle board inserts, each shelf has a capacity of 455kg. The vertical posts are punched on both sides allowing the units to link together and it has the provision to be bolted down. They are easy to assemble without the use of any tools. The shelve rails are secured in position with a locking pin ensuring no nasty accidents.
Features
455kg capacity per shelf
Modular upright design with multiple configurations options
Can be configured as a work bench style
Industrial grade steel
Adjustable shelf height
Durable powder coat finish resists rust!
4 shelves made from 16mm thick particle board
Vertical posts have double sided punched holes allowing to link units together
Vertical posts are 64 x 38 x 1.6mm heavy duty C - Stud Section
Cross members for timber are 70 x 18 x 1.6mm heavy duty C - Section
Strengthening supports are 40 x 18 x 1.3mm C - Section
1040 x 430 x 1830mm (LxWxH) assembled dimensions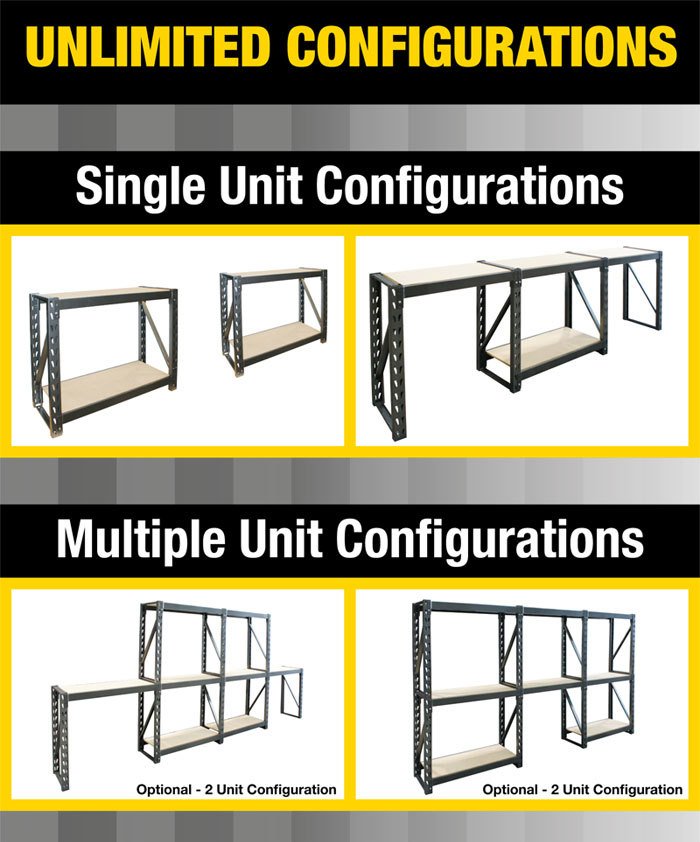 Spare Parts Ordering
To assist you in ordering your spare part quicker than ever before, we have listed our most common spare parts to suit our
Hafco Machinery
for purchase online. Just choose between the
2 options
outlined below, to find exactly what you are looking for. If you need further assistance please
contact us
.
Option 1
Browse through the
"Common Spare Parts"
tab below
. Once you have identified your part, you can add it to your cart by clicking on the
"+ ADD TO CART"
button. If you wish to add multiples of this part you can either click the
"+ ADD TO CART"
button as many times as you like or click on the
"VIEW CART"
button and change the order quantity, prior to completing your order.
Option 2
If your part is NOT listed in the
"Common Spare Parts"
tab below
, click the
"MORE INFO"
button to complete the
"Spare Parts Enquiry Form"
.
This will provide you with the option to email your spare part enquiry direct to our Spare Parts and Service Department, or if you wish, you can download a printable version of this enquiry form which will include a copy of the Parts List to suit this machine (if available). Further instructions for the return email address or fax number of this printable form is provided on the document for your convenience.
NOTE: Please remember to clearly identify your part on the included parts diagram if necessary so that we can respond as quickly as possible with a price and availability for the part(s) you require.
Covers 4 Square Metres

Only Available From:

Sydney, Melbourne, Perth

Additional Freight Charges May Apply