THIS PRODUCT IS NO LONGER AVAILABLE. Click to see similar products > Wood Band Saws





Order Code: R821
BS300E - Wood Band Saw (240V)
305mm Throat x 190mm Height Capacity
Description
The Record Power BS300E is a great all rounder perfectly specified for the medium sized workshop where a range of duties will be required.
Featuring a solid fence, vital for accurate ripping, which has a heavy extrusion mounted on a cast iron base and fixed to a solid steel bar for maximum rigidity and support. This is based on an industrial Startrite design and much more solid than other fences at this level. The machine also features a solid double trunnion fence mount to provide rigid table support and one-handed table tilt on a smooth rack and pinion. Adding to the structural integrity of the BS300E are the cast iron bandwheels which are fitted with precision ground rubber tyres to provide a flywheel effect for smooth cutting. A solid blade tension indicator is fitted to the rear of the machine to allow for easy setup. Microswitches are fitted top and bottom for added safety, cutting power to the machine if the doors are opened.The BS300E is also supplied with a basic wheelkit as standard.
Features
Blade Tension Indicator - The blade tension guide is situated on the rear of the machine.
Industrial Startrite Style Fence - This high quality fence features a heavy extrusion mounted on a cast iron base, which moves along a solid steel bar. This provides exceptional strength and accuracy and is easily locked with the brass screw and handle.
Large Cast Iron Table - This provides a strong and steady work area to support large workpieces. Finely ground finish enables effortless movement of the timber.
Cast Iron Band Wheels - These are dynamically balanced and provide a flywheel effect for improved cutting performance. Rubber tyres are precision ground for easy blade fitting and smooth drive.
Tracking System - Easy blade tracking allows accurate positioning of blade.
Toolpost - The toolpost features jacking screws and rack and pinion rise and fall for easy adjustment.
Accurate and Easy to Use Blade Guides - Blade guides need accurately setting if they are to be of any use – so easy access and adjustment are a must. Our guides, similar to those found on industrial machines, give good quality adjustment with minimal need for tools.
Mitre Fence - A solid and easy to use mitre fence is included with this machine.
Microswitches - Are fitted top and bottom for added safety. Cuts power to machine when doors are opened.
Motor - Quiet and powerful 1hp output induction motor will handle a wide variety of projects with ease.
Steel Stand - With splayed legs to provide better stability than some cabinet stands.
Wheelkit - A basic wheelkit is provided as standard which is suitable for occasional use. For those wishing to move the machine on a regular basis we recommend the BS300A Pedal Wheelkit.
Substantial Trunnion - Solid double trunnion table mount for rigid table support featuring one handed rack and pinion table tilt for ease of use and accuracy. Mounted on top of band wheel box with jacking screws for easy adjustment.
Bandsaw Masterclass DVD Included - Presented by Alan Holtham, this indispensable DVD gives a thorough and comprehensive introduction to bandsaw use, setup, maintenance and blade choice.
Table Height from Floor: 990mm
Blade Speeds: 820 & 380 M/minute
Extraction Port Diameter: Ø100mm
Size: L680 x W880 x H1690mm
Includes
Stand
Mitre guide
Heavy Duty Rip fence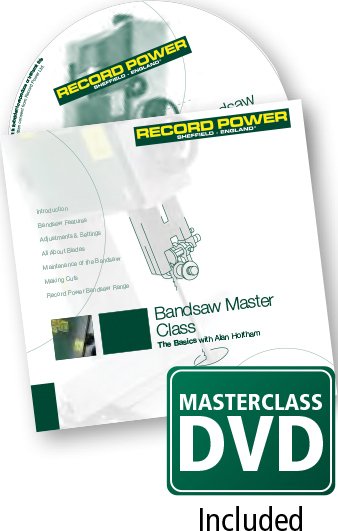 Spare Parts Ordering
To assist you in ordering your spare part quicker than ever before, we have listed our most common spare parts to suit our
Hafco Machinery
for purchase online. Just choose between the
2 options
outlined below, to find exactly what you are looking for. If you need further assistance please
contact us
.
Option 1
Browse through the
"Common Spare Parts"
tab below
. Once you have identified your part, you can add it to your cart by clicking on the
"+ ADD TO CART"
button. If you wish to add multiples of this part you can either click the
"+ ADD TO CART"
button as many times as you like or click on the
"VIEW CART"
button and change the order quantity, prior to completing your order.
Option 2
If your part is NOT listed in the
"Common Spare Parts"
tab below
, click the
"MORE INFO"
button to complete the
"Spare Parts Enquiry Form"
.
This will provide you with the option to email your spare part enquiry direct to our Spare Parts and Service Department, or if you wish, you can download a printable version of this enquiry form which will include a copy of the Parts List to suit this machine (if available). Further instructions for the return email address or fax number of this printable form is provided on the document for your convenience.
NOTE: Please remember to clearly identify your part on the included parts diagram if necessary so that we can respond as quickly as possible with a price and availability for the part(s) you require.