Order Code: M214
HMA-R886 - R8 Horizontal Milling Attachment
Suits Ø86mm Quill

Description
Manufactured in Taiwan

Used on vertical milling machine where horizontal work is required.
Designed to simplify right angle work without the need for special tooling or complex fixtures.

Note! If using with an air powered drawbar the drive motor of the drawbar needs to be removed as the quill is lowered so that the horizontal attachment can be secured. As the quill is lowered the air drawbar is dis-engaged and cannot be used. For this application use a standard drawbar.
Features
Arbor support suits dovetail widths of 140-170mm
Supplied in deluxe wooden case
Arbor Ø1" x 12" in length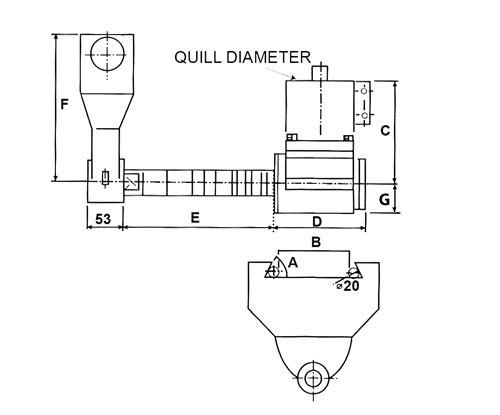 Spare Parts Ordering
To assist you in ordering your spare part quicker than ever before, we have listed our most common spare parts to suit our
Hafco Machinery
for purchase online. Just choose between the
2 options
outlined below, to find exactly what you are looking for. If you need further assistance please
contact us
.
Option 1
Browse through the
"Common Spare Parts"
tab below
. Once you have identified your part, you can add it to your cart by clicking on the
"+ ADD TO CART"
button. If you wish to add multiples of this part you can either click the
"+ ADD TO CART"
button as many times as you like or click on the
"VIEW CART"
button and change the order quantity, prior to completing your order.
Option 2
If your part is NOT listed in the
"Common Spare Parts"
tab below
, click the
"MORE INFO"
button to complete the
"Spare Parts Enquiry Form"
.
This will provide you with the option to email your spare part enquiry direct to our Spare Parts and Service Department, or if you wish, you can download a printable version of this enquiry form which will include a copy of the Parts List to suit this machine (if available). Further instructions for the return email address or fax number of this printable form is provided on the document for your convenience.
NOTE: Please remember to clearly identify your part on the included parts diagram if necessary so that we can respond as quickly as possible with a price and availability for the part(s) you require.