Order Code: M007
EP-2512 - Easson Optical Projector (240V)
365mm Optical Screen

X Measurement Travel
(mm)
250
Y Measurement Travel
(mm)
100
X, Y Readout Resolution
(mm)
0.001
Axial Measuring Accuracy
(um)
(3+L/100)um
A Readout Resolution
(deg)
0.01º
Max. Contour Distortion
(%)
0.08%
Lens Visible Field (dia)
(mm)
30
Lens Object Focal Distance
(mm)
73
Description
EASSON EP-2512 HIGH PRECISION OPTICAL PROJECTOR
EP-2512 high precision optical profile projector provides accurate 2D measurement for all common geometric features such as circles, lines, angles etc. All measured results can be printed or transferred to computer for further processing.
The EP-2512 Optical Projector is designed for all circulate dimension measurements in mould and die making, form tool making, screw manufacturing, gear manufacturing etc.
Constructed with top class components and under high standard of workmanship, EP-2512 achieves very high measurement accuracy. The axial measurement accuracy is 3+L/100um, where L is the measured length in mm. The total contour distortion is less than 0.08%.
EP-2512 is equipped with ES-8P 1um resolution high accuracy measuring system which provides comprehensive and easy to use geometric measurement functions.

ES-8P MEASURING SYSTEM SPECIFICATIONS
AXIS: X, Y axis liner transducer. A axis rotary encoder
RESOLUTION: 0.001mm (X,Y axis) / 0.01º (A axis)
CO-ORDINATES: X, Y and Polar Co-ordinates Systems
MEMORY: 99 feature memory, 10 co-ordinates memory
ERROR COMP: Linear and non-linear error compensation
I/O INTERFACE: RS-232C I/O interface

GEOMETRIC MEASUREMENT FUNCTIONS
3 points circle measurement
2 points distance measurement
2 points for a line measurement
2 lines intersection measurement
4 points line intersection measurement
Point line perpendicular projection

STANDARD ACCESSORIES
- Thermal Printer
- ES-10 Projector Digital Readout
- Precision Rotary Table
- Precision Lens 10x

ERGONOMIC DESIGN MACHINE BASE
To make the EP-2512 the most comfortable projector to operate, EP-2512 has two options of machine base available for the user's choice. The standing operate machine base is best for shop floor usage where users are using the projector for measuring small quality of work piece individually. The sitting operate machine base is best for QC room usage where small numbers o users have to measure large quantity of work piece efficiently.
Features
Table glass size 290 x 190mm
Measurement travel 250 x 100mm
365mm Screen diameter
10x, 20x and 50x lens available (standard machine 10x only)
Digital readout X, Y and A, 1um
Thermal printer, rotary table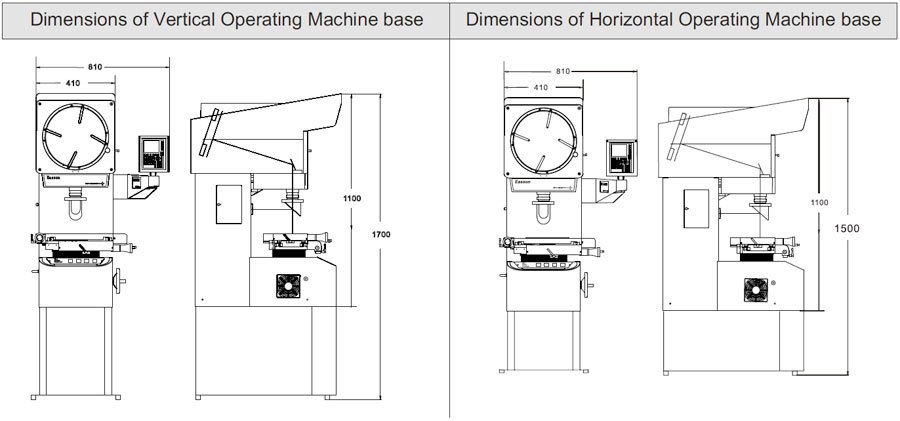 Instruction Manual
3.53 MB
Spare Parts Ordering
To assist you in ordering your spare part quicker than ever before, we have listed our most common spare parts to suit our
Hafco Machinery
for purchase online. Just choose between the
2 options
outlined below, to find exactly what you are looking for. If you need further assistance please
contact us
.
Option 1
Browse through the
"Common Spare Parts"
tab below
. Once you have identified your part, you can add it to your cart by clicking on the
"+ ADD TO CART"
button. If you wish to add multiples of this part you can either click the
"+ ADD TO CART"
button as many times as you like or click on the
"VIEW CART"
button and change the order quantity, prior to completing your order.
Option 2
If your part is NOT listed in the
"Common Spare Parts"
tab below
, click the
"MORE INFO"
button to complete the
"Spare Parts Enquiry Form"
.
This will provide you with the option to email your spare part enquiry direct to our Spare Parts and Service Department, or if you wish, you can download a printable version of this enquiry form which will include a copy of the Parts List to suit this machine (if available). Further instructions for the return email address or fax number of this printable form is provided on the document for your convenience.
NOTE: Please remember to clearly identify your part on the included parts diagram if necessary so that we can respond as quickly as possible with a price and availability for the part(s) you require.