THIS PRODUCT IS NO LONGER AVAILABLE. Click to see similar products > Lathes TAFE





Order Code: K8500
NSW Schools / TAFE - NCL-6000 CNC Lathe (240V)
250 x 450mm
NSW Contract Item No.33


NSW Contract No.
NSW Item No.33
MODEL
Schools/TAFE NCL-6000
Distance Between Centres
(mm)
450
Head Stock Spindle Taper
(MT)
3
Spindle Steps/speeds
(No. / RPM)
100-3000
Voltage / Amperage
(V / amp)
240 / 15
Description
We for many years have been working in close consultation with education departments to ensure the most suitable equipment is provided to our schools and TAFE, not only does it comply with the departments stringent safety requirements but is built to last the distance. That's why we consider our company to be a specialist when it comes to supplying quality Wood Work and Metal Working Machinery for Public or Private Schools, TAFE Colleges and Trade Training Centres in all states of Australia.

The NCL-6000 is a CNC lathe with a stepping motor system, hardened ballscrews, variable spindle speed, limit switches, 4-way toolpost and tailstock. The CNC lathe is driven by MACH 3 software on a PC

Converts a standard PC to a fully featured CNC control. Up to 6-Axis control can be achieved, allows direct import of DFX, BMP, JPG and HPGL files to generate the G code. It includes visual G code display as well as multiple programming wizards to provide complex programming techniques into simple to use menu's. The entire machine is driven by the PC.
Features
Accuracy 0.01mm
Repeatability 0.005mm
3000rpm spindle
250mm swing
1000W main spindle motor
135mm bed width
330mm Maximum Length capacity
100mm Maximum Diameter capacity
4N Motor of X-Axis
4N Motor of Z-Axis
Tool Position No. 4
Angle of the Toolpost 360º
2MT Tailstock with 50mm Travel
X-Axis Adjustable distance of tailstock ±4mm
Dimensions (LxWxH) 154 x 92 x 163cm
Fully enclosed guarding
Includes PC with software preloaded, screen, keyboard and mouse
Includes
12mm Turning Tool Kit (L450)
2MT Live Centre (C050)
13mm Keyless Drill Chuck (C292)
2MT x JT6 Drill Chuck Arbor (D442)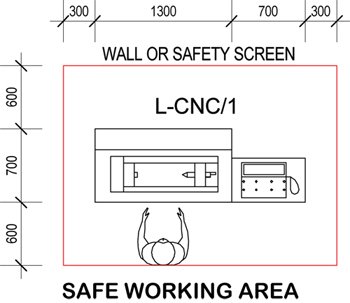 LAZYTURN MANUAL_REV_5
1.53 MB
LazyTurnAPPENDIX ABCDEF
1.13 MB
Spare Parts Ordering
To assist you in ordering your spare part quicker than ever before, we have listed our most common spare parts to suit our
Hafco Machinery
for purchase online. Just choose between the
2 options
outlined below, to find exactly what you are looking for. If you need further assistance please
contact us
.
Option 1
Browse through the
"Common Spare Parts"
tab below
. Once you have identified your part, you can add it to your cart by clicking on the
"+ ADD TO CART"
button. If you wish to add multiples of this part you can either click the
"+ ADD TO CART"
button as many times as you like or click on the
"VIEW CART"
button and change the order quantity, prior to completing your order.
Option 2
If your part is NOT listed in the
"Common Spare Parts"
tab below
, click the
"MORE INFO"
button to complete the
"Spare Parts Enquiry Form"
.
This will provide you with the option to email your spare part enquiry direct to our Spare Parts and Service Department, or if you wish, you can download a printable version of this enquiry form which will include a copy of the Parts List to suit this machine (if available). Further instructions for the return email address or fax number of this printable form is provided on the document for your convenience.
NOTE: Please remember to clearly identify your part on the included parts diagram if necessary so that we can respond as quickly as possible with a price and availability for the part(s) you require.