THIS PRODUCT IS NO LONGER AVAILABLE. Click to see similar products > Wood Lathes TAFE






Order Code: K8121
Schools / TAFE - OMEGA STUBBY S750 Wood Lathe (240V)
400 x 850mm


Description
We for many years have been working in close consultation with education departments to ensure the most suitable equipment is provided to our schools and TAFE, not only does it comply with the departments stringent safety requirements but is built to last the distance. That's why we consider our company to be a specialist when it comes to supplying quality Wood Work and Metal Working Machinery for Public or Private Schools, TAFE Colleges and Trade Training Centres in all states of Australia.
Features
A short-bed wood lathe on which you can also turn spindle work
Heavy duty cast iron construction for less vibration and longer life
Height-adjustable stand
A 270kg heavyweight lathe which is modular. It can be assembled and disassembled quickly and moved by two people
Headstock to base alignment controlled by machined keyways for accurate alignment
Patented sliding and rotating bed
Sliding the bed out allows you to work with various size material. Ability to turn platters, bowls or hollow-forms up to 30" in diameter and turn spindles up to 30" long
Unique auxiliary bed attaches to the machine in five different locations with several orientations. This allows great flexibility
2hp 240V or 415V motor
Includes
Ø200mm Face plate
2MT Live centre
2MT Spur Centre,
Left hand tool slide
Right hand tool slide
300mm Tool rest
Universal bowl bed
Self eject tail centre
24 Hole indexing attachment
Vacuum port
Remote stop/start & magnetic base
Curved tool rest
Scroll chuck
Set of HSS Chisels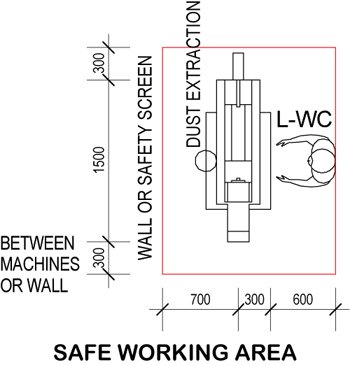 Instruction Manual
608.88 KB
Spare Parts Ordering
To assist you in ordering your spare part quicker than ever before, we have listed our most common spare parts to suit our
Hafco Machinery
for purchase online. Just choose between the
2 options
outlined below, to find exactly what you are looking for. If you need further assistance please
contact us
.
Option 1
Browse through the
"Common Spare Parts"
tab below
. Once you have identified your part, you can add it to your cart by clicking on the
"+ ADD TO CART"
button. If you wish to add multiples of this part you can either click the
"+ ADD TO CART"
button as many times as you like or click on the
"VIEW CART"
button and change the order quantity, prior to completing your order.
Option 2
If your part is NOT listed in the
"Common Spare Parts"
tab below
, click the
"MORE INFO"
button to complete the
"Spare Parts Enquiry Form"
.
This will provide you with the option to email your spare part enquiry direct to our Spare Parts and Service Department, or if you wish, you can download a printable version of this enquiry form which will include a copy of the Parts List to suit this machine (if available). Further instructions for the return email address or fax number of this printable form is provided on the document for your convenience.
NOTE: Please remember to clearly identify your part on the included parts diagram if necessary so that we can respond as quickly as possible with a price and availability for the part(s) you require.