Order Code: D766
GS11 - Easson DRO Scales
600mm
1µm

Description
Easson GS series Glass Grating Linear Transducer: EASSON - Always committed to Quality, Technology & Innovation
Features
DOUBLE SEAL DESIGNED SCALES:
The plastic seals of the transducer use an innovative material to offer superior oil resistance, high elastic recovery properties and durability, carefully designed lip geometry offer low slide resistance.


100% LASER CALIBRATION:
All glass grating transducers are individually inspected and calibrated by our in-house laser calibrator to ensure accuracy complies 100% with the specifications.


ADVANCED OPTICAL MEASURING SYSTEM:
The slide carrier of the GS series scales, use a five bearing design for optical grating linear transducer which has been proven as the most reliable system design in today's market.
The glass grating slide-ways are lapped, and JIS standard P5 grade bearings are used to achieve smooth and accurate movement and long working life.


D.I.Y. INSTALLATION:
An easy-to-follow D.I.Y. Installation Manual is supplied with each system, complete with illustrations and mounting brackets.
Instruction Manual
3.09 MB
Reader Head Replacement
133.87 KB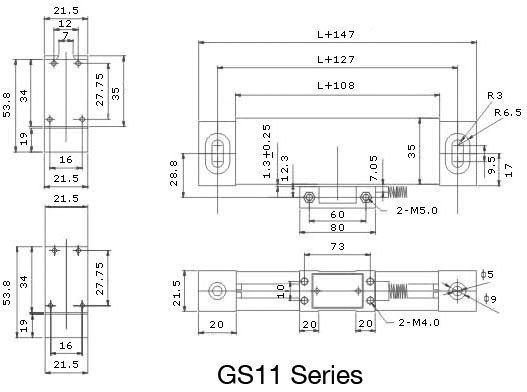 Spare Parts Ordering
To assist you in ordering your spare part quicker than ever before, we have listed our most common spare parts to suit our
Hafco Machinery
for purchase online. Just choose between the
2 options
outlined below, to find exactly what you are looking for. If you need further assistance please
contact us
.
Option 1
Browse through the
"Common Spare Parts"
tab below
. Once you have identified your part, you can add it to your cart by clicking on the
"+ ADD TO CART"
button. If you wish to add multiples of this part you can either click the
"+ ADD TO CART"
button as many times as you like or click on the
"VIEW CART"
button and change the order quantity, prior to completing your order.
Option 2
If your part is NOT listed in the
"Common Spare Parts"
tab below
, click the
"MORE INFO"
button to complete the
"Spare Parts Enquiry Form"
.
This will provide you with the option to email your spare part enquiry direct to our Spare Parts and Service Department, or if you wish, you can download a printable version of this enquiry form which will include a copy of the Parts List to suit this machine (if available). Further instructions for the return email address or fax number of this printable form is provided on the document for your convenience.
NOTE: Please remember to clearly identify your part on the included parts diagram if necessary so that we can respond as quickly as possible with a price and availability for the part(s) you require.