Order Code: D115
SA-2500 - Precision Drill Sharpener (240V)
12-26mm - 1/2"-1"

Features
Solid metal construction
ER40 collet holding system
CBN 140 grinding wheel for HSS
Can sharpen metric and imperial drill bits
Precision grinding results with diamond wheel
Hand operated for easy operation - User friendly
Chisel point and split point operations
Adjustable drill point angles from 90-144º
Industrial 240V motor
Optional Accessories
Replacement Wheels:
CBN 140 grinding wheel for HSS - (Order Code D115A)
CBN 300 grinding wheel for Carbide - (Order Code D115C)
ER40 collet set, 27, 28, 29, 30mm - (Order Code D115D)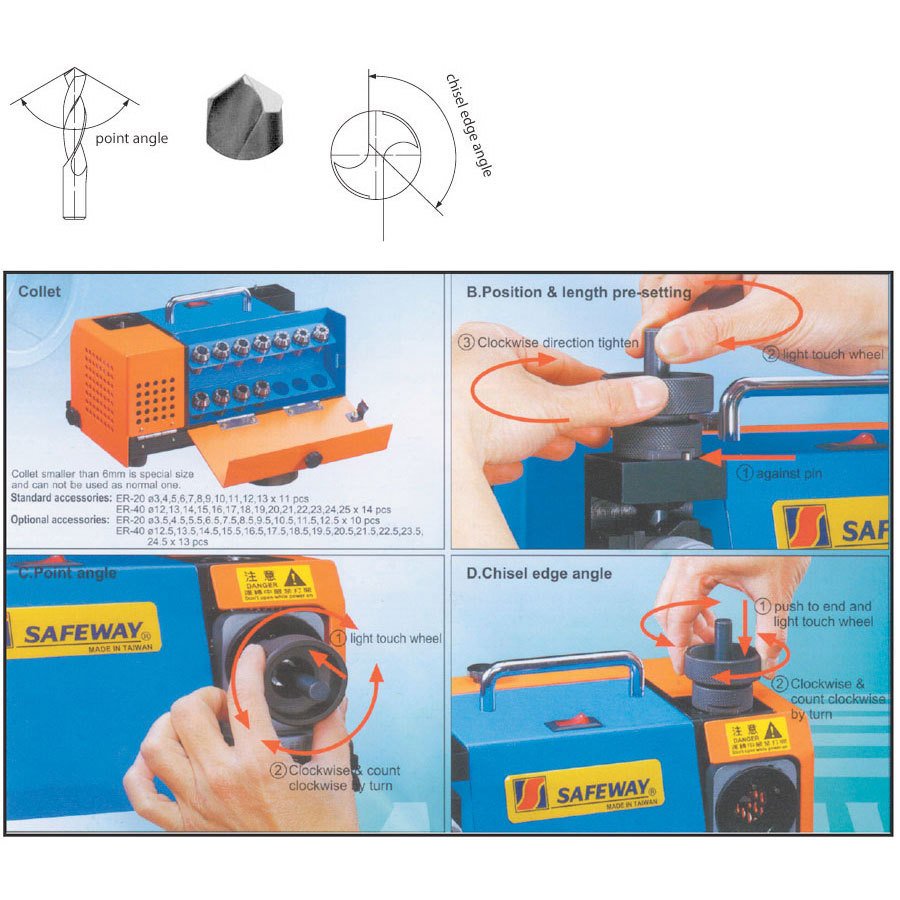 Instruction Manual & Parts List
1.46 MB
Spare Parts Ordering
To assist you in ordering your spare part quicker than ever before, we have listed our most common spare parts to suit our
Hafco Machinery
for purchase online. Just choose between the
2 options
outlined below, to find exactly what you are looking for. If you need further assistance please
contact us
.
Option 1
Browse through the
"Common Spare Parts"
tab below
. Once you have identified your part, you can add it to your cart by clicking on the
"+ ADD TO CART"
button. If you wish to add multiples of this part you can either click the
"+ ADD TO CART"
button as many times as you like or click on the
"VIEW CART"
button and change the order quantity, prior to completing your order.
Option 2
If your part is NOT listed in the
"Common Spare Parts"
tab below
, click the
"MORE INFO"
button to complete the
"Spare Parts Enquiry Form"
.
This will provide you with the option to email your spare part enquiry direct to our Spare Parts and Service Department, or if you wish, you can download a printable version of this enquiry form which will include a copy of the Parts List to suit this machine (if available). Further instructions for the return email address or fax number of this printable form is provided on the document for your convenience.
NOTE: Please remember to clearly identify your part on the included parts diagram if necessary so that we can respond as quickly as possible with a price and availability for the part(s) you require.
Suits SA-2500 Drill Sharpener

Only Available From:

Sydney, Brisbane

Additional Freight Charges May Apply