THIS PRODUCT IS NO LONGER AVAILABLE. Click to see recommended item > C206 (K11 SERIES)
Order Code: C7101
PS Series - 3 Jaw Self Centring Lathe Chuck
250mm
Back Plate Mount

Description
PS Series semi steel body lathe chucks are supplied with one piece standard and reverse jaws.

Gator is a world class state of the art producer of manual lathe chucks with over 30 years of manufacturing experience and production excellence. Gator chucks are manufacturing to DIN 55029 standard and built to last for precision machining applications. The state of the art, ISO 9001-2000 manufacturing facility is quality focused producing chucks for the worldwide market.

The PS Series lathe chucks are available in direct mount or back plate mount.
Features
Comprehensive quality assurance and accuracy testing ensure standards remain high
Each chuck is supplied with a set of inside and outside jaws and a chuck key
All bearing surfaces are precisely machined
Scroll plate is drop forged from fine alloy steel and finished with case hardening
Jaw teeth, guideways & pinions are hardened & ground
Includes
Outside jaws
Inside jaws
Mounting screws
Chuck key
How to Mount a Lathe Chuck
911.52 KB
LATHE CHUCK - SAFETY NOTES
35.87 KB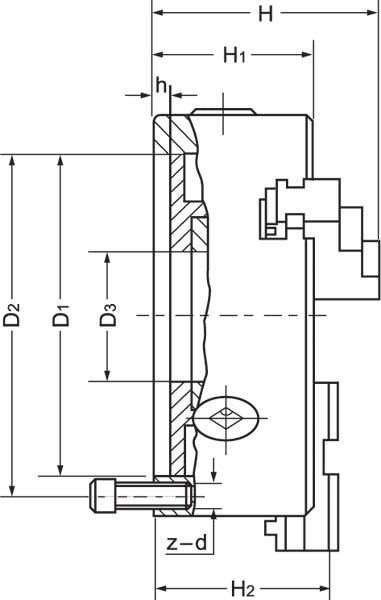 Spare Parts Ordering
To assist you in ordering your spare part quicker than ever before, we have listed our most common spare parts to suit our
Hafco Machinery
for purchase online. Just choose between the
2 options
outlined below, to find exactly what you are looking for. If you need further assistance please
contact us
.
Option 1
Browse through the
"Common Spare Parts"
tab below
. Once you have identified your part, you can add it to your cart by clicking on the
"+ ADD TO CART"
button. If you wish to add multiples of this part you can either click the
"+ ADD TO CART"
button as many times as you like or click on the
"VIEW CART"
button and change the order quantity, prior to completing your order.
Option 2
If your part is NOT listed in the
"Common Spare Parts"
tab below
, click the
"MORE INFO"
button to complete the
"Spare Parts Enquiry Form"
.
This will provide you with the option to email your spare part enquiry direct to our Spare Parts and Service Department, or if you wish, you can download a printable version of this enquiry form which will include a copy of the Parts List to suit this machine (if available). Further instructions for the return email address or fax number of this printable form is provided on the document for your convenience.
NOTE: Please remember to clearly identify your part on the included parts diagram if necessary so that we can respond as quickly as possible with a price and availability for the part(s) you require.