THIS PRODUCT IS NO LONGER AVAILABLE. Click to see similar products > Wood Band Saws
Order Code: R820
BS250 - Wood Band Saw (240V)
240mm Throat x 120mm Height Capacity

Description
Record Power BS250 Wood Band Saw

With a cast iron table at the heart of this compact machine it is designed to offer those with limited space or budgets a real bandsaw with sensible capacity and performance, as an alternative to lightweight hobby machines.
This is the smallest machine in our range, but should not be confused with the lightweight hobby machines available in the market at a similar price. It shares the same essential build qualities as its larger cousins – strong steel frames, dynamically balanced bandwheels, cast iron tables and an induction motor. It has been designed to offer the user with space restrictions a serious machine in compact form. The machine can be bench mounted or fitted to the optional stand and wheel kit, providing great flexibility in a tight space.
Features
Strong Tension System - Provides more than adequate tension for the blade capacities of this machine. Tension is easily set from the top of the machine, to adjust the dynamically balanced band wheels. The BS250 also features a microswitch for added safety, cutting off power if the doors are opened.
Blade Guides - The blade guides are easily adjustable and move on a lockable rack and pinion rise-and-fall system.
Sealed for Life Bearings - These require no maintenance for the life of the machine. The drive belt is situated beneath the lower band wheel and can be adjusted to the desired tension from the rear.
Impressive Capacity - Large 120mm depth of cut and 240mm throat depth make this a compact machine capable of serious work.
Strong Fence - With cam action lock for ease of use and simple tension adjustment for clamping strength.
Cast Iron Table - A solid, finely ground cast iron table provides an ideal and low friction work support.
Solid Trunnion - The table tilts from 0 - 45° on a solid trunnion with easy to read scale.
Switch - If power supply is cut this machine will not restart on its own when the power is restored.
Bandsaw Masterclass DVD Included - Presented by Alan Holtham, this indispensable DVD gives a thorough and comprehensive introduction to bandsaw use, setup, maintenance and blade choice.
Blade Speed: 740 M/minute
Table Height from Floor: 370mm
Extraction Port Diameter: 58 mm (100 mm with supplied adaptor)
Size: L480 x W550 x H860mm


Optional Accessories
Optional Stand & Wheelkit Available (R8311) The optional stand and wheelkit allow the BS250 to be moved easily around the workshop.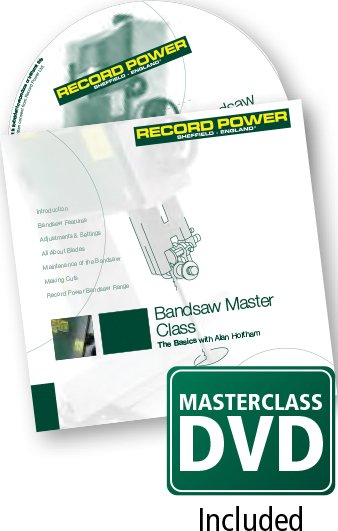 Spare Parts Ordering
To assist you in ordering your spare part quicker than ever before, we have listed our most common spare parts to suit our
Hafco Machinery
for purchase online. Just choose between the
2 options
outlined below, to find exactly what you are looking for. If you need further assistance please
contact us
.
Option 1
Browse through the
"Common Spare Parts"
tab below
. Once you have identified your part, you can add it to your cart by clicking on the
"+ ADD TO CART"
button. If you wish to add multiples of this part you can either click the
"+ ADD TO CART"
button as many times as you like or click on the
"VIEW CART"
button and change the order quantity, prior to completing your order.
Option 2
If your part is NOT listed in the
"Common Spare Parts"
tab below
, click the
"MORE INFO"
button to complete the
"Spare Parts Enquiry Form"
.
This will provide you with the option to email your spare part enquiry direct to our Spare Parts and Service Department, or if you wish, you can download a printable version of this enquiry form which will include a copy of the Parts List to suit this machine (if available). Further instructions for the return email address or fax number of this printable form is provided on the document for your convenience.
NOTE: Please remember to clearly identify your part on the included parts diagram if necessary so that we can respond as quickly as possible with a price and availability for the part(s) you require.